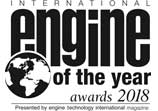 With over 100 years of experience in the powertrain technologies, the Groupe PSA has come a long way in delivering advanced technologies for performance, emissions and fuel efficiency and have made the worldwide reputation for its products. The Groupe PSA has always been striving towards offering the most environment friendly engines, satisfying all customers need.
One of its 3-cylinder petrol engine in over 100 HP category, has been awarded as the International Engine of the Year in the 1-litre to 1.4-litre category, for the 4th year in a row, by the panel of the Engine Technology International Magazine, during the 20th International Engine of the Year Awards event. Groupe PSA has already filed over 200 patents for its family of 3-cylinder petrol engines. The new generation PureTech engine offers improved performance, fuel consumption and efficiency, with specific benefits including:

4% improvement in fuel consumption on average compared with the previous generation engines.

Improved engine response time because of an optimized turbocharger (20% faster increase in torque from 1500 rpm).

75% reduction in particulate emissions through the use of a gasoline particulate filter (GPF), meeting the Real Driving Emissions (RDE) conformity factor of 1.5 set by EU regulations for 2020, three years in advance.

More compact structure, to adapt to the new Common Modular Platform (CMP) dedicated to small city cars, core sedans and compact SUVs.